Discover more from All the Fanfare
Movies, TV, gaming, Star Wars, and why Timothy Olyphant is so damn charming. News, essays, and recommendations.
Every Friday I share 5 things that brought me joy this week. Also, high fives are inherently cool, and I think we can all agree Friday is the bestest day. Hence the Friday High Five. 🙏🏻
Sadly, we are back from vacation and enmeshed again in this thing called life. More on the trip in a moment.
We've returned to a confluence of events that can only be described as bullshit. I won't bore you with the mundane particulars, apart from highlighting that we are also attempting the two most painful undertakings in human history: buying a new mattress and shopping for a new car. At the same time.
On top of that, I screwed up my neck lifting heavy things yesterday. It's a hazard of weight-lifting, especially in your 40s. But I also did something ill-advised (read: stupid) so I have nobody to blame but myself. At least I'll spend a sizable portion of the weekend laying down as we try out new mattresses.
Have a great weekend! High five!
---
5 Things I Enjoyed This Week:
Silo

The Sons & Daughters song

Vacation

Writing

Hitman
---
Silo
Another win for Apple TV. I've read the book series upon which the show is based and I'm pleased to report that the show is also excellent while being totally different. It seems to be moving at a slower pace than the book, which is a bit surprising honestly. I keep waiting for the really good stuff to happen. It's coming, but I'm also enjoying the efforts to bring the silo to life and flesh-out the periphery characters.
Maybe I should've lead with a brief synopsis: Silo is about a group of people who live, work, and die in an underground silo. Nobody knows how long they've been there, or who built the silo, or why. Asking those kinds of questions is frowned upon by the powers that be. The only thing everyone can agree on: Going outside is death. That doesn't stop some people from wanting to.
Silo is an atmospheric mystery that unravels in surprising ways. Not to be missed!
Fresh insights on your favorite pop culture stuff, delivered to your inbox for free.
The Sons & Daughters song
We've nearing the end of our The Office rewatch with our son. It's his first time seeing it, I think our 4th. Still hilarious, though somehow the show gets better with each viewing.
Near the end of the final season, there's an episode set on the Schrute farm where we discover Dwight has a brother and sister. Turns out that footage was intended for a spin-off called Schrute Farms, which I discovered while googling the song they play on the porch steps. I can't imagine Schrute Farms would've been very good. But I totally would've watched.
After we finished the episode, my wife and I had this exchange:
Her: "That song always gets stuck in my head."
Me, daydreaming: 🎶 we'll build our walls, aluminum.. "Hmm?"
I thought I was the only one! It's an earworm of a song, and has this nostalgic quality that I quite enjoy. I actually assumed it was an old folk song, but a band called The Decemberists released it in 2006. I ended up watch-listening to several versions on YouTube before settling on the one below, which pairs The Office footage with the song. If I'm being honest though, I prefer the partial version sung by Dwight's family, which sadly isn't on YouTube.
Vacation
One of the best parts of living in Michigan is you don't have to go far to find water. Last week we rented a gorgeous Airbnb on the water that came pre-equipped with kayaks and basically spent as much time as possible either on the water or staring at it. It stormed one evening and that just chased us onto the covered patio for a few hours. (The house had 2 decks and a patio, which turns out is just the right number.)
We played boardgames and foosball, kayaked, ate great food, and did a lot of loafing. I spent my idle hours either reading or writing. It was glorious.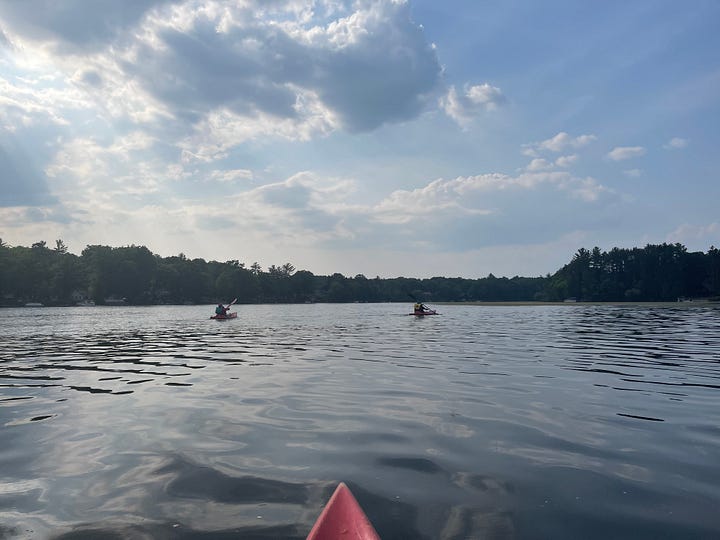 I took a lot more photos—I am the photographer in the house, not because I'm good but because I want the memories—but this sample will have to suffice because I still haven't sent pictures to my mom. I don't think she can still ground me but I don't want to find out by sharing them with the Internet first.
Writing
I'll be totally honest—sometimes I don't like writing all that much. I'm always glad when I write, after the fact. But sometimes, you have to make yourself sit down and do the work even when you don't want to.
Lately though, I've been in the groove. The words come easily. I look forward to the work, and don't want to stop. This all started on vacation and happily has carried over into civilian life. I'm even sacrificing videogames in order to have more time at the keyboard. I've been writing long enough to know this won't last, but I'm loving it while it does.
The takeaway, if there is one—rent a house on the lake and do as much reading and writing as possible. It will fix everything that ails you.
Hitman
Look—not every film I mention is going to be a banger or should even be misconstrued as a recommendation. Sometimes your boy just likes watching trashy shit while he sweats.
I have never seen Hitman before, though I'm familiar with the videogame series it's based on. And by familiar with, I mean I've assassinated people and hid the evidence in bathroom stalls, dumpsters, and closets. That's actually the main selling point of the game: sneaking around to do the needful and then leaving the body somewhere hilarious. Hitman, the game series, is not very deep. I've played several and can't tell you a single shred of the story, which is frankly just a bit of weak scaffolding to get you from one assignment to the next. And it works! But I sorta can't believe Hollywood looked at the games and said, "This game with no story and a totally empty vessel of a main character would make an incredible movie."
You know what though? Darn it if I wasn't entertained. The action plays like a JV version of John Wick. I mean that in the nicest way possible—I was legitimately surprised at how good the action was. But the main reason I watched Hitman is I'm a huge Timothy Olyphant fan. I'm inclined to write about my adoration, but first I thought I should plug some holes in his filmography. Next up, his big screen debut in The First Wives Club. I'm not even joking.
Olyphant is actually the best part of this movie, which is saying something considering he plays a robotic assassin with a barcode on the back of his head.
---
What are you into at the moment? Leave a comment and let me know!
If you enjoyed this, please like it and share it with someone. It's the best way to show your appreciation and it would mean a lot to me. :)