Discover more from All the Fanfare
Movies, TV, gaming, Star Wars, and why Timothy Olyphant is so damn charming. News, essays, and recommendations.
Star Wars is Cool and All But the Food Is Straight Up Disgusting
In space no one can hear you vomit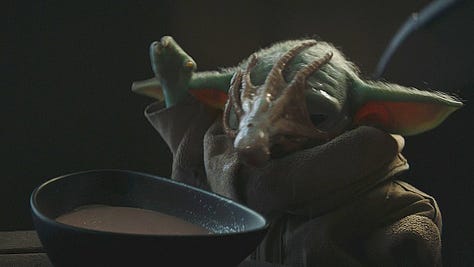 This post is part of the A Month of Star Wars series (experiment?). More info here.
For all the wonderful and amazing advancements Star Wars promises—lightsabers, faster-than-light space travel, making ice cubes out of your worst enemies—I'm not sure I'd want to live there. I love good food too much. Pizza, donuts, a nicely grilled steak—yes please. But pretty much everything I've seen eaten in Star Wars is some variety of unappetizing or gross.
The most famous example—perhaps infamous is a better word—is the blue milk Luke Skywalker drinks in A New Hope. Star Wars fans have been quietly obsessed with blue milk ever since—does it come from blue cows? (actually, it comes from Banthas)—even though, creatively, it was a punt. Blue milk = futuristic milk, I guess. George Lucas had much bigger fish to fry than the culinary habits of his characters.
I checked my copy of The Making of Star Wars—true story—hoping it would shed some light on how blue milk came to be. Why not orange or pink? But I couldn't find any reference to milk.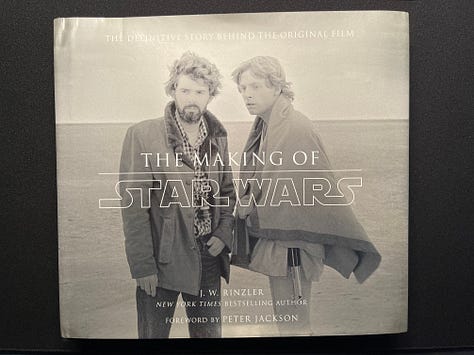 For the longest time, blue milk was the only "space food" we see in Star Wars. In The Empire Strikes Back, we get a glimpse inside the bento box Luke lugs around in his X-wing, but the contents are pretty mundane. Yoda later makes some kind of stew. Jabba the Hutt wolves down some frogs. And I think that's it for food in the original trilogy? Little wonder everyone latched onto the blue milk—it was the single most exotic entree on the menu.
Which is why I find it especially interesting that the modern era of Star Wars has gone full gonzo with gross and wildly colorful food. What started as a bit of set dressing and became an in-joke among fans has turned into an ongoing gag you can't help but notice because it's everywhere. It's like when an unfunny person tells a joke they once heard, and keeps repeating it even though nobody is laughing.
The truly funny part is that Luke Skywalker himself confirmed this stuff is nasty.
Disney made a big to-do about how fans visiting their Star Wars Land theme park (e.g. Galaxy's Edge) would get the chance to sample the tastiest treats from that faraway galaxy, including milk in shades of green and blue. Even though I'm the breed of dork that would gladly spend thousands of dollars to visit such a place, I've yet to go. Some day! I'm sure they've improved the blue milk formula since Mark Hamill first sampled it in 1976, but I still think it's a hard pass for me.
All this food talk reminds me of the scene from The Empire Strikes Back where Yoda starts ransacking Luke's belongings and eating his food.
Yoda tried to tell us! This stuff is nasty.
My new head canon is that Yoda was once a normal-sized person, but gradually shrunk after several hundred years of avoiding all that gross space food.
---
Share this post! Palpatine demands it.
Want to stuff your inbox with a month of free Star Wars goodies? Two simple steps are required.
2.Go into your subscription settings for Fanfare and enable 'A Month of Star Wars'. This is not enabled by default on the off-chance someone doesn't want to receive 28 awesome Star Wars stories. (Can you imagine?)